City of Albany Aboriginal Accord Action Plan

Category:
Policy/Strategy
Date:
27 March 2003
Sub Category:
Policy/Strategy
Place:
Albany
State/Country:
Western Australia, Australia
Subject Matter:
| Cultural Heritage | Economic Development | Education | Employment and Training | Environmental Heritage | Local Government | Recognition of Native Title or Traditional Ownership
Summary Information:
The City of Albany Action Plan (Action Plan) is an integral part of the City of Albany Aboriginal Accord (Accord) which was signed on the 27 March 2003. The Action Plan is an Appendix to the Accord. The Accord states (p13): 'The City of Albany Aboriginal Accord Action Plan identifies specific strategies that have been developed to achieve the objectives of the Accord, as well as providing a detailed blueprint of actions, activities, programs and initiatives. 'Implementation of the Action Plan will see the vision outlined in the Statement of Understanding and Commitment and the broad objectives of the Accord achieved within a stated time frame'
Detailed Information:
The strategies outlined in the Action Plan are the following:
Cross cultural Awareness
Consultative Mechanisms & Liaison
Social & Economic Planning
Environment
Local History & Site Conservation
Employment, Education & Training
Arts & Culture
Young People The Action Plan sets out the precise details required to achieve the strategies. It details the objectives, strategies, activities, stakeholders, Council role and the timelines involved in relation to all of the strategies outlined above. It involves the participation of the City Council, Aboriginal organisations, Aboriginal elders, State Government departments, youth and other community organisations. An Aboriginal Liaison Officer has been based at the City of Albany, seconded from the State Department of Indigenous Affairs, to assist with the implementation of the Albany Aboriginal Accord and Action Plan.
---
Related Entries
Organisation
People
Policy/Strategy
---
Documents
Document

City of Albany Aboriginal Accord Action Plan - full text document - ( PDF | Thumbnail)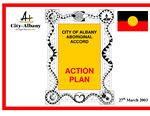 ---
Glossary
Policy/Strategy